View/Analyze Network Data
View, Analyze and Transmit Data on a Vehicle Network
Viewing, analyzing and transmitting data are among the most common tasks when working with vehicle networks, including both those within vehicles and on test benches. To work with networks you need two components: hardware and software.
Vehicle Network Adapters — Our neoVI and ValueCAN series products act as the hardware interface between your PC and the networks of your choice. Our neoVI products also have additional analog and/or digital channels. Intrepid adapters connect to your PC through USB, Wi-Fi, or Ethernet.
Software — Getting data to your PC is not enough, so we created software to complement our vehicle network adapters. Software such as Vehicle Spy acts as your "window" into the vehicle network, its messages and signals, while DataSpy allows you to precisely analyze the data you collect.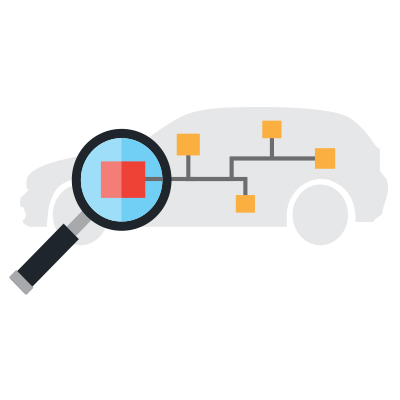 You can use a vehicle network adapter and software together to accomplish a wide variety of tasks, including:
Bus Monitoring and Bus Transmission: See live traffic, filter on the fly, and save data to your PC. Load databases to interpret data bytes as signals, providing useful information in engineering units. Transmit messages that you construct or create from your databases.
Analysis / Post-Analysis: Graph and display signals, and make decisions based on network traffic or signal values. Save graphs to office applications for reports and presentations. Graph data on the fly or from a file. Search through many datasets for user-defined events of interest.
Data Acquisition: Save signal values from messages in engineering units, simultaneously saving digital and analog data, even video, synchronized with vehicle network data. Start and end recordings based on conditions you define or as part of easy-to-write scripts.
Diagnostics: Load your diagnostics databases to automatically create diagnostic IDs and jobs. Diagnostic IDs, routines, memory addresses, security codes and more are automatically created for your ECUs. If you prefer, you can create your own diagnostic jobs with only a couple of clicks. Use diagnostic jobs with scripting to create complete testing programs.
Graphical Panels / HMI: Create your own panels to display and control your own tests, simulations, and projects.
Memory Edit/Calibration: Connect to ECUs with memory edit protocols such as the CAN Calibration Protocol (CCP) and Universal Measurement and Calibration Protocol (XCP).
Scripting: Use scripts to create test procedures and automate tasks. This is especially powerful when used in conjunction with graphical panels.
Intrepid's most popular and versatile vehicle network software includes a multitude of capabilities that make it a "One Tool, Many Tasks" solution.
neoVI FIRE 3
The neoVI FIRE 3 is the most advanced multi protocol vehicle network interface and data logger available, providing 16x CAN FD networks, up to 8x LIN networks, 2x 1 Gb 10/100/1000BASE-T, 1x 10/100BASE-Tx.
The neoVI RED 2 Series has up to eight dual wire CAN FD channels, two LIN channels, and two Gigabit Ethernet channels. The neoVI RED 2 fills the need for multiple protocol tools with a low-cost, high-value vehicle bus interface that fits in your backpack.
Intrepid's next generation family of low-cost, high-performance interfaces for CAN and CAN FD networks, offering 1 to 4 CAN / CAN FD channels, improved performance, new features, and a multitude of options, including LIN and Ethernet.