Intrepid Control Systems is pleased to invite you to
Automotive Ethernet Technology Day & Automotive Ethernet Second Edition Book Launch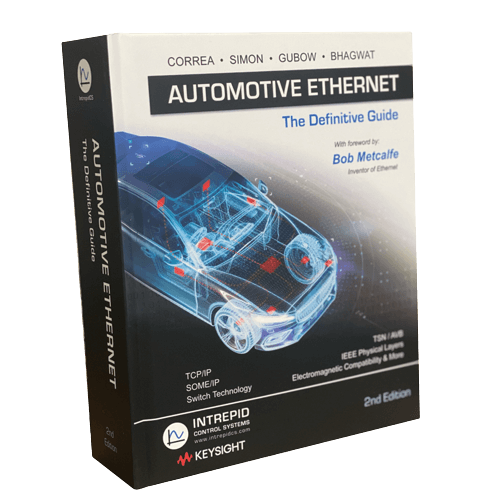 BANGALORE
Marriott Hotel Whitefield, Bangalore
Date: 6th Feb 2023
Time: 9am – 5pm

CHENNAI
Welcomhotel by ITC, Chennai
Date: 8th Feb 2023
Time: 9am – 5pm

PUNE
Hilton Garden, Pune
Date: 9th Feb 2023
Time: 9am – 5pm
You are cordially invited to attend Automotive Ethernet Technology Day & Book Launch Event.
Great opportunity to meet, greet and ask questions to Authors of Automotive Ethernet – The Definitive Guide Second Edition!
TECHNICAL SESSIONS AND SEMINARS:
Automotive Ethernet Fundamentals – Topologies, Addressing Methods, Frames
Automotive Networks Compared – CAN FD, FlexRay, Automotive Ethernet, LIN, Automotive Audio Bus (A2B), SerDes
Automotive Network Architectures – Domain, Zonal
Automotive Ethernet Physical Layers – 100/1000BASE-T1, MultiGBASE-T1, 10BASE-T1s
Automotive Ethernet Switches
IPv4, IPV6, TCP, UDP
SOME/IP, DOIP, AVB/TSN, MACSec
LIVE DEMONSTRATIONS:
Automotive Ethernet Media Converters – RAD-Moon Series
Active Taps and Switches – RAD-Galaxy, RAD-Jupiter, RAD-Epsilon
MultiGBASE-T1, QoS, Protocol Analysis
16 CAN FD channel Advanced Bus Analyzer/Datalogger – neoVI FIRE 3
Wireless and Standalone Data Logging – neoVI RED 2, ValueLOG
Network Design Engineers, Managers, and Executives that desire to know the future of automotive networking. ECU SW Developers, ECU Testing, Validation and Verification, Technical Specialists, Engineering Managers, Resident Engineers and others who provide guidance to future design and tool considerations will benefit from this conference. Those who are researching their own company's approach to these exciting new technologies are especially welcome!
PLEASE NOTE:
The seats are limited at each location and they fill very quickly. Please contact the undersigned to pre-book your company/team/group seats.
Meals and refreshments will be served.
Cost to attend: Free!
Ready to register? Have questions?
Please contact us!
Looking forward to hosting you in February!